Posts
https://www.walkaboutfoundation.org/wp-content/uploads/2014/07/d-13.jpg
619
619
Tiago Silva
https://www.walkaboutfoundation.org/wp-content/uploads/2018/05/walkabout-foundation-logo-black.png
Tiago Silva
2014-07-25 12:21:53
2020-12-16 08:33:28
Malawi 2014 film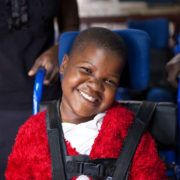 On the 25th July, Team Walkabout returned to Malawi for a second time to individually fit 250 wheelchairs. Bryony and Stefanie were accompanied by summer intern, Phaedra de Saint Rome on this trip to work in partnership with MAP (Malawi Against Physical Disability).
During the week, the team travelled the entire length of the country to ensure as many people as possible could be fitted. Fittings were carried out in Blantyre, Zomba, Lilongwe and Rumphi covering a total of 676 miles in a few short days. The team made many new friends, all with inspirational stories but one that stood out for us in particular is Talandila, aged 13, pictured above, whose face lit up when her mother told Walkabout that she would finally be able to start school in September. Another amazing example of how chairs change lives.
Our successful distribution would not have been possible without the help of MAP's incredible team -Thank you for helping us to change more lives in Malawi! Special thanks also go to Phaedra for her invaluable help throughout the week.
https://www.walkaboutfoundation.org/wp-content/uploads/2014/07/180614-malawi-2014.jpg
733
733
Tiago Silva
https://www.walkaboutfoundation.org/wp-content/uploads/2018/05/walkabout-foundation-logo-black.png
Tiago Silva
2014-07-09 16:30:13
2018-06-20 17:36:09
Malawi 2014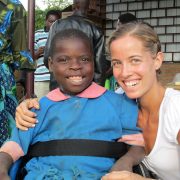 In May 2012, WALKABOUT FOUNDATION teamed up with Partners in Health (PIH) once again to donate and distribute 300 RoughRider wheelchairs in Malawi. After two successful distribution trips with PIH in Haiti and Rwanda, Walkabout was asked by PIH to send a container of wheelchairs to Neno, Malawi, one of the poorest rural districts in Malawi. Carolina and Monica Gonzalez-Bunster travelled over 24 hours to get to Neno and were part of a week-long distribution, which changed the lives of dozens of individuals suffering from mobility disabilities.
The week began with a training session, in which local therapists and technicians were trained by a Motivation instructor on responsible wheelchair provision, distribution, and fittings. With over 10 trainees in the 3-day course, Walkabout ensured a sustainable initiative whereby Rajiv, Peter, Macfarry, Bridget, and Margaret (to name just a few of the trainees) will be able to continue the distribution of the hundreds of wheelchairs Walkabout has sent to Malawi.
There are countless stories from our trip to Malawi but there are always a few that stand out in our minds, like the story of Ruth, a 14 year-old teenager who cannot walk and is carried everywhere on her mother's back. Or the story of Editha, 8 years old, who was born with a congenital birth defect and looks more like a toddler and is also carried everywhere on her mother's back. And the story of Philip, 19 years old, who arrived at our distribution in Lisungwi crawling and dragging himself on the dirt ground, only to then show us the biggest and brightest smile when he sat in his new RoughRider wheelchair.
Our successful distribution and memorable week in Malawi would not have been possible without the help of PIH, remarkable staff members on the ground in Neno, especially Amanda Schwartz and Robbie Flick, and our donors' generous contributions that allow us to make our mission a reality. WE HOPE THIS IS THE FIRST OF MANY WHEELCHAIR DISTRIBUTION TRIPS TO MALAWI!
https://www.walkaboutfoundation.org/wp-content/uploads/2018/05/story2img1-1.jpg
825
1100
Tiago Silva
https://www.walkaboutfoundation.org/wp-content/uploads/2018/05/walkabout-foundation-logo-black.png
Tiago Silva
2012-05-09 16:31:36
2018-06-21 12:07:18
Malawi 2012