Description
Domenico's Spinal Cord Injury Research Campaign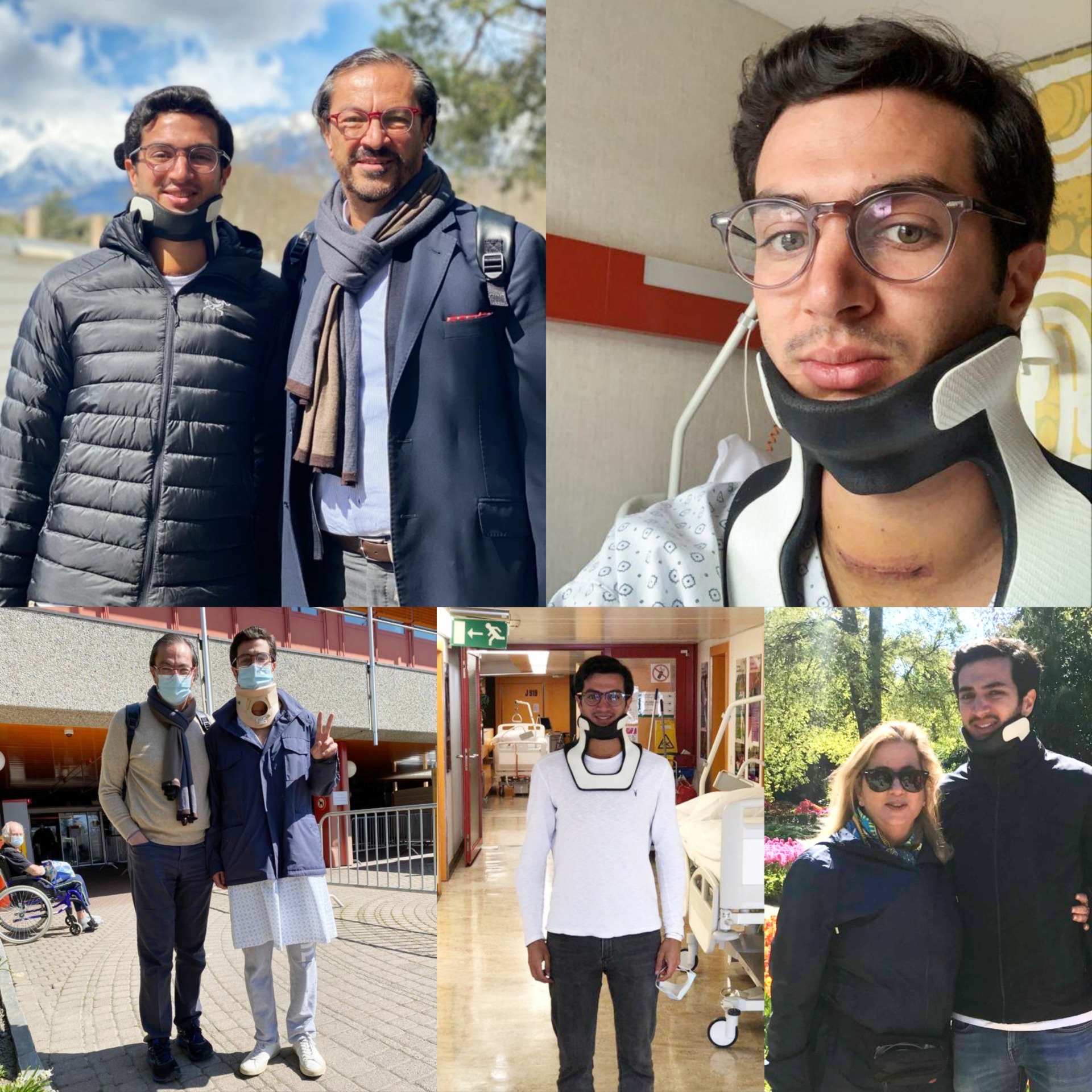 Dear Family & Friends,
As many of you know, on March 29th 2021, I suffered a ski accident in Switzerland, which led to two cervical bone fractures with a serious Spinal Cord Injury (SCI) compromise that required surgery. I had surgery on April 1st 2021, and from there the recovery process has been more than successful!
Luckily, this accident did not turn out to be a tragedy. I am doing very well and I am finally back to living my normal lifestyle again… back to working hard, running kilometres, kilometres and more kilometres, and enjoying life at its fullest!
During my recovery, I was constantly thinking about how to give back for this second lease on life God has given me. During my research, I found the Walkabout Foundation, a non-profit organization that provides wheelchairs and rehabilitation to people in need in the developing world and funds research to find a cure for paralysis.
I have decided to work with them in raising awareness on this topic and raising funds for SCI research. As I said, I was extremely lucky, however, many people aren't so lucky and their futures are drastically changed when they have a Spinal Cord Injury.
Please help us in this journey with a donation. Anything helps! Even one dollar, euro or pound! Click the donate button above to help find a cure for paralysis today! Let's combine forces and help advance the field of SCI research.
If you are interested in discussing the Walkabout Foundation and my case, please contact me at domenicogonzalezrossi@hotmail.com.
Thank you and my best wishes,
Domenico
Latest Donations
Clara Martínez Thedy
£200.00
JOSE JORGE NACIF
$100.00
BUENA DOME...
Anonymous
£3,750.00
Excelente iniciativa, es una gran manera de agradecerle a la vida. Te deseamos una pronta recuperación.
Marina Pizzuto
$100.00
Bravo Domenico ! ❤️
Elena Gonzalez Rossi
$50.00
Gracias por inspirarnos Dome! Te quiero
Anonymous
$200.00
Linda forma de agradecer , ayudando a los demás . Desde Rep Dominicana
Pablo González Rossi
$50.00
Maria & Tom Hornstein
$100.00
Maria & Tom Hornstein - Wishing you a full recovery!
Larry Eden
$75.00
Gran iniciativa!!!
Luis Mariano Acebal
£30.00
Alejandro Hernández
$100.00
Maria Lucia Garcia
$50.00
Rafael Salazar-Mourre
£10.00
Luis del Yerro Rebuelta
$200.00
Rodrigo Arce
£30.00
Qué buena iniciativa! Recuperate pronto. Las mejores vibras.
Clara Martínez Thedy
$400.00
Dear Domenico, I'm very happy to know that you have become a great friend of the Walkabaout Foundation and that God saved you from a worst accident!!
Claudia Dalla Torre di Sanguinetto
$30.00
Alessia Juan
$20.00
So happy and grateful that you overcame this difficulty, and what a humbling thought that you do not take it for granted and are going out of your way to help others. Amazing Dome!
Jaime Quiros
£20.00
Por una buena causa, grande Dome
Estefanía Sansores
$40.00
Monica Garcia
$30.00
Incredible iniciativa - cuenten conmigo!
Ma Eugenia Paganoni
$50.00
Jose Luis Velasco Gomez
$20.00
Anonymous
$45.00
Changing lives for the better with a small contribution from everyone makes a big difference.
Amanda Noboa
$100.00
So proud of you Dome. Thanks for turning your pain into purpose 💪👏🙌🏼
Maria Juliana Vives
$20.00
Raised
£

6,815.34
$

8,928.10
That's
27
life-changing wheelchair(s)!
https://www.walkaboutfoundation.org/wp-content/uploads/2021/05/My-Post.jpg
1920
1920
Domenico Gonzalez Rossi
https://www.walkaboutfoundation.org/wp-content/uploads/2018/05/walkabout-foundation-logo-black.png
Domenico Gonzalez Rossi
2021-05-19 11:15:43
2022-04-05 12:15:00
Domenico's Spinal Cord Injury Research Campaign