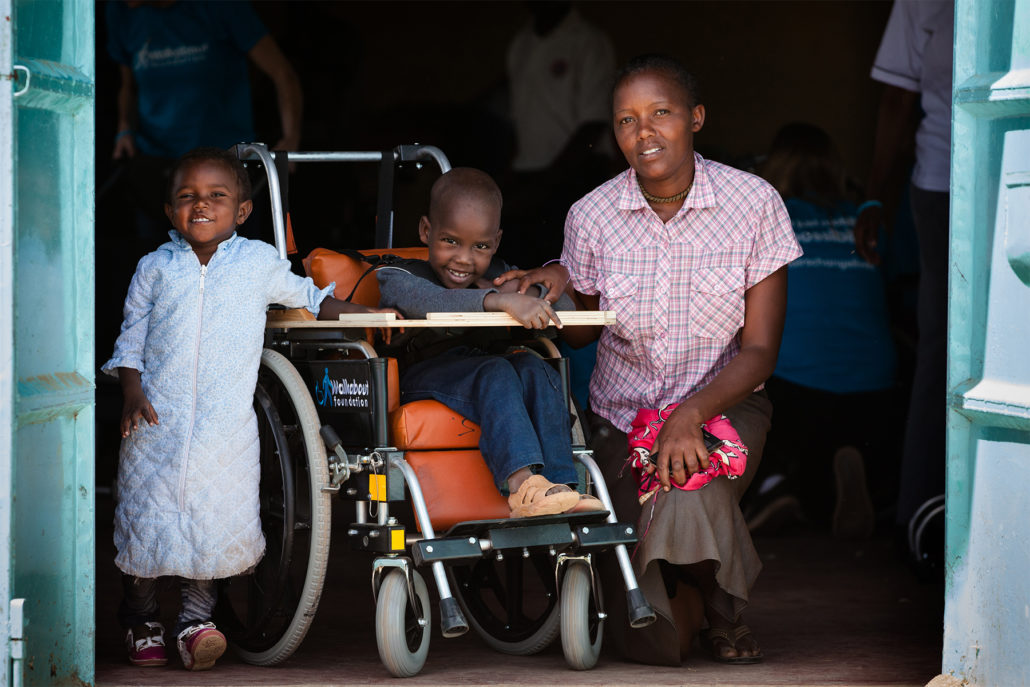 At 6 months old, Patrick contracted meningitis. He has been paralysed ever since. Maralal, where he lives, is a small town in a very rural part of Kenya; access to education is limited here and in surrounding regions, and the prevailing attitude towards disability is once of prejudice  and superstition.
When we met Patrick at our distribution, his mother Grace brought him along with his 3-year-old sister Joy. At just 32, Grace manages to feed, clean, carry and care for Patrick, as well as her four other children. This was Patrick's first ever wheelchair – and despite repeated attempts by his younger sister to fit the wheelchair herself, Patrick was soon seated by somebody slightly more qualified. The constant smile on his face made it impossible to question his feelings about his new chair – and the table tray served immediate purpose as a lunch tray, and soon after as a musical instrument.
Grace's biggest concern was that Patrick had been unable to attend school like his older siblings have. Despite her repeated attempts to organize for Patrick to be admitted, it has not been possible. There is a primary school in Maralal that admits a few other disabled children, with one stipulation – that they must have a wheelchair. Now that Patrick has his chair, he will be able to start at this school in just 3 weeks. For Grace, and many other mothers and fathers we meet, giving their children access to education is their primary goal, and the most important aspect of the mobility that a chair provides.
But there is so much more that happens when Patrick, or any child, is given a chair. In this area, the lives of people with disabilities have been restricted to their own homes. There can be no doubt that Patrick's own horizon has widened now that he has access to education, but also now that he has increased visibility and movement around his rural community – as a laughing, lovely and bright boy –  the local stigma and suspicion surrounding disability must decrease.
https://www.walkaboutfoundation.org/wp-content/uploads/2018/05/story11image0-495x400-1.jpg
400
495
Tiago Silva
https://www.walkaboutfoundation.org/wp-content/uploads/2018/05/walkabout-foundation-logo-black.png
Tiago Silva
2016-12-09 16:29:34
2018-06-20 12:57:30
Patrick's Story