Description
Christian's London Marathon 2022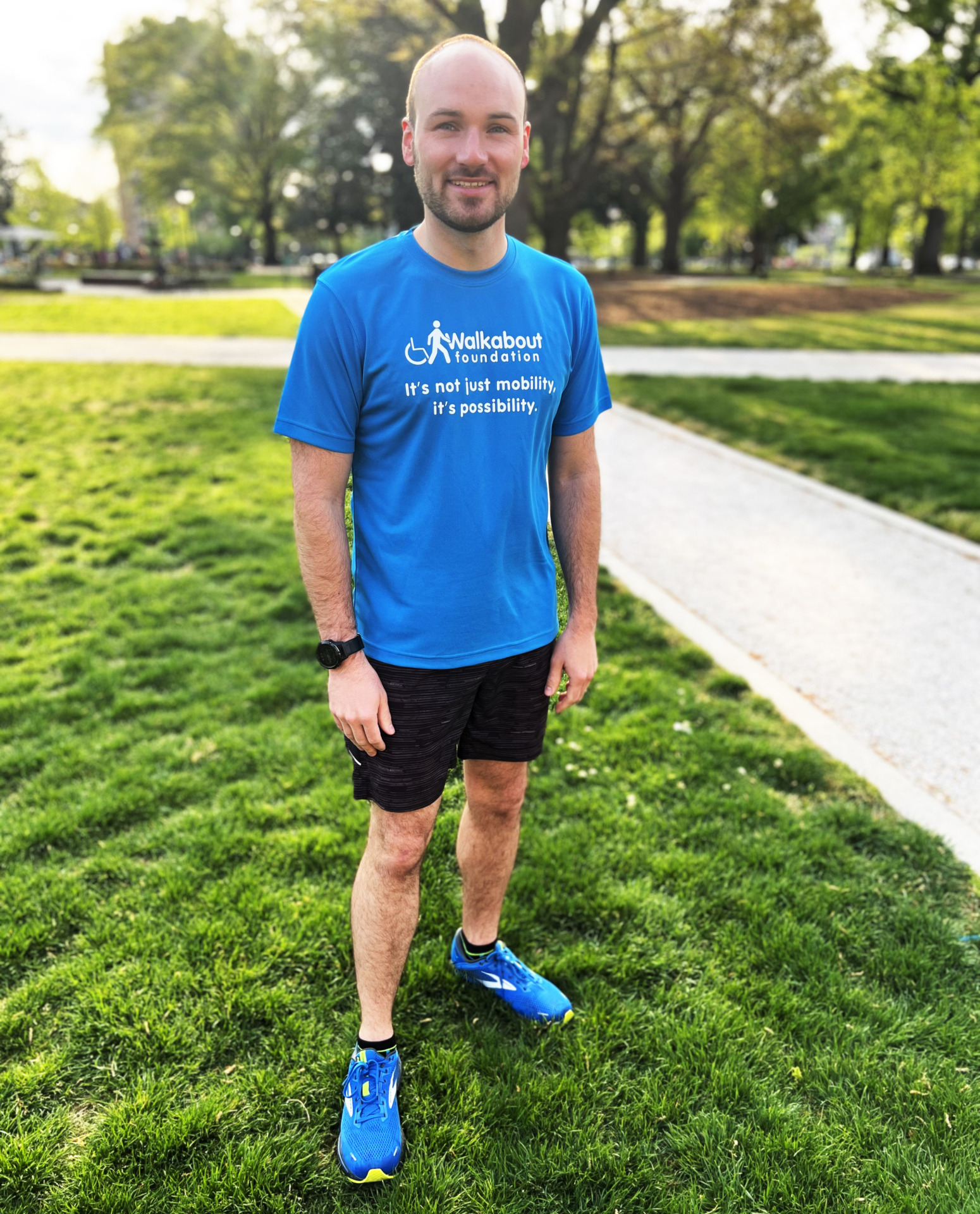 I'm lacing up my running shoes and training for another marathon! I'm excited to share that this time it's across the pond in the UK. Most importantly however, I am running in honor of my brother, Cory, who was born with spina bifida—a condition which can severely limit a person's mobility.
I invite you join me in supporting the Walkabout Foundation's mission to provide dignity, freedom and independence to people with mobility disabilities around the world. 100% of every donation will go towards providing someone in need with a life-changing wheelchair.
My goal is to raise $4,000, enough to supply 12 wheelchairs for those in need, but I can't do it alone! Every dollar counts, and I would be so grateful for a donation of any size.
If you are unable to assist financially at this time, spreading the news to friends and family who may also like to join in this mission would mean a lot. Simply share the link to this site via text, email, or social media.
I greatly appreciate your support in making a positive impact on the lives of those with mobility disabilities.
Latest Donations
Nancy Hozouri
$50.00
Christian, I'm so excited for you to be participating in this!
Tina Williams
$100.00
Thank you Christian for trying to make this world a better place!
Karon Bowser
$100.00
Christian, you are a bright light shining in this world to help those who need assistance simply because you can. You and Cory are a beautiful example of brotherly love. .
Beth Plasters
$300.00
I'm donating for my oldest son who is running in honor of his younger brother who was born with Spina Bifida.
Keith Dooley
$100.00
From Uncle Keith! He wanted me to do the online portion for him :).
Kerry Dooley
$100.00
You rock Christian! Good luck in the marathon!
Ashale Thompson
$50.00
Good luck Christian!!
Leslie Shakespeare
$25.00
Hope this helps a bit!
Freddie King
$200.00
King's Auto Upholstery
Peggy Lane
$25.00
Mawmaw & Toot Toot
Lori Applebach
$10.00
Go Christian go! 🧁
Stephanie Belanger
$25.00
Good Luck in London!
Blake Andrews
$10.00
Christian is a beautiful man
Henry Bronez
$50.00
Good running in London my man!
Sarah Custer
$15.00
Go Christian!!
Bonnie Knighton
$25.00
Glad to donate Christian! Good luck in your marathon.
Rebecca Whiteside
$50.00
Love & Best Wishes! Aunt Beck
Antoinette Barber
$100.00
Diana Numeiry
$25.00
Rooting for you!!
Collin Condron
$10.00
🏃💂🇬🇧🫖
Larry Stone
$20.00
Go Christian!
David Irvin
$60.00
Donating to support Christian Lane in his effort to assist all who have mobility issues.
Paul Ayoub
$50.00
Get it done
Amber and Dave Rhoda
$15.00
LET'S GOOOOOO
Frances Peyton
$20.00
Go Christian go!
Kevin McBreen
$25.00
Christian, An honor to donate.
Claudia Sokolowski
$100.00
Heather Brockwell
$75.00
Make the family proud Christian! Thanks for running in support of my almost husband! ~your favorite (almost) sister-in-law
Raised
£

3,252.29
$

4,260.50
That's
13
life-changing wheelchair(s)!
https://www.walkaboutfoundation.org/wp-content/uploads/2022/04/christian.jpg
1920
1550
Christian Lane
https://www.walkaboutfoundation.org/wp-content/uploads/2018/05/walkabout-foundation-logo-black.png
Christian Lane
2022-04-06 15:43:43
2022-06-08 10:58:12
Christian's London Marathon 2022