A Walkabout Foundation Campaign
Description
Support Our Emergency Container for Ukraine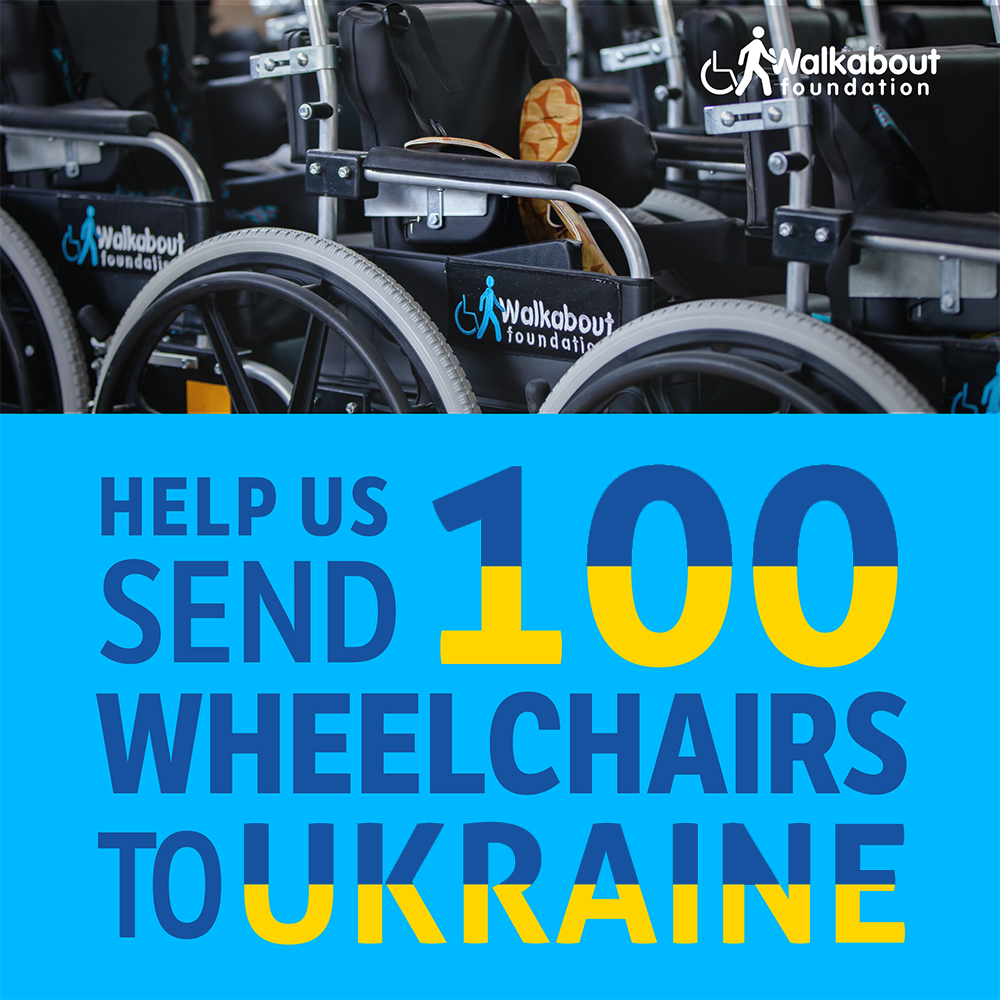 In February 2022, Vladimir Putin launched a military invasion of Ukraine. A devastating humanitarian crisis, fuelled by years of political instability, continues to unfold in the country.
There are 2.7 million people with disabilities currently residing in Ukraine. These 2.7 million individuals form part of the most vulnerable and marginalised. They don't have the necessary support, resources, or care to help them escape the conflict, let alone recover from their injuries. Meanwhile, women and girls with disabilities face an even higher risk of gender-based violence and their lives are in constant danger.
Last month, we promised you we would find a way to help. And we've done just that! After many calls, emails, and countless conversations with experts in the field, we have identified how to help. Together with our long-standing partner, Momentum 4 Humanity, we will send 100 wheelchairs to a distribution centre in Lviv and distribute them to those most in need.
As we continue to #Pray4Ukraine, we ask for your support in providing 100 wheelchairs to those who have lost everything and need to flee the country. One wheelchair costs us £250, including the order, shipping and distribution. Please, help us help Ukraine today and donate to our emergency container. Click the donate button to help us change 100 lives in Ukraine. 
Latest Donations
Alfonso Fernandez
$500.00
Andres Bobadilla Bermudez
£100.00
I applaud the initiative! Donating on behalf of Luis!
Zaid Haroon
£50.00
They been doing amazing job since ages and was personally involved with their wheelchair distribution process in Pakistan.
Clara Martínez Thedy
$600.00
I am also for Ukrania
Anonymous
£100.00
Well done!! Thank you for them
Raised
£

1,568.63
$

2,054.91
That's
6
life-changing wheelchair(s)!
https://www.walkaboutfoundation.org/wp-content/uploads/2022/05/chairs-rs-copy.png
1000
1000
Walkabout Foundation
https://www.walkaboutfoundation.org/wp-content/uploads/2018/05/walkabout-foundation-logo-black.png
Walkabout Foundation
2022-05-04 09:34:35
2022-05-24 12:24:02
Support Our Emergency Container for Ukraine