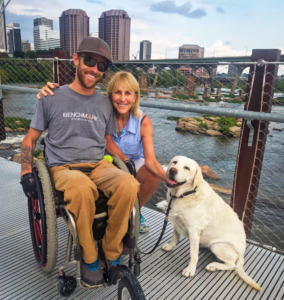 Dear Friends,
My name is Julie Williams and I'm the mother of Walkabout's advocate, Kirk Williams.
Kirk was injured in a mountain biking accident in 2009, breaking his C4-6 vertebrae and injuring his spinal cord. Receiving that phone call and the weeks that followed brought me to my knees. Our family had lived an active lifestyle of swimming, hiking, biking, and adventuring pre-accident. We all had an easy, uncomplicated fun-loving relationship with Kirk. I wasn't sure if that would ever happen again.
I will be honest, my maternal instincts and gravitational pull to Kirk became my Achilles heel following his injury. It strained me to the breaking point. He needed his space to heal while I felt I needed to be right by his side through everything. After a "come to Jesus" talk with Kirk, I realized the best thing I could do for him was to leave him in Colorado and return home to Virginia. After all, I had to accept I could not make this better. It was out of my control. I was making it worse for both of us. A harsh reality for a mom to face. But face it, I did.
Though there is no cure for someone who has suffered a Spinal Cord Injury yet, rehabilitation centers teach amazing ways for patients to adapt.  I am blessed to have a son who took in all the suggestions and was able to build upon them… and then some.
Shortly after leaving the hospital, Kirk began going out for adventures with various adaptive sports organizations. His change in character was evident. Our conversations began shifting to what he was doing, not how he was doing. This was a remarkable improvement for the relationship between us as well.
As time went by, Kirk kept doing more and more. Before long he was doing even more than he did when he was able-bodied!  I didn't see that coming! We started to become creative about family vacations, in a good way. Rather than exchanging Christmas presents, we planned family trips to Cozumel, Belize and Maui, so the guys could SCUBA dive together, while all I needed was a good book, the beaches and quality time with my boys.
Recently, I've been finishing a children's picture book called Bella Joins the Service; a story about Kirk and his amazing service dog, Bella. Bella tells about her dilemma and angst as Kirks' best friend after he was first injured. She asks the questions, 'What can I do? What if I jumped on top of him and licked him? Would that make him better?' We follow her journey as she and her "Kirk" come full circle to live the same life they enjoyed before — just differently. This story, of course, parallels my journey as Kirk's mom since the accident. Bella and I are the same in our love for our Kirk.
We are both so proud of Kirk, what he has achieved and what he will continue to achieve. As it turns out, we have come full circle and do enjoy the same life we had before… Just differently.
With love and hope,
Julie
This Mother's Day in the UK, make all the moms in your life feel extra special. Give a woman in need the gift of mobility in honour of your mom today!
https://www.walkaboutfoundation.org/wp-content/uploads/2021/03/Kirk_Julie-copy-e1615655857956.jpg
1850
1388
Maria Pyatakova
https://www.walkaboutfoundation.org/wp-content/uploads/2018/05/walkabout-foundation-logo-black.png
Maria Pyatakova
2021-03-13 17:16:07
2021-03-13 17:34:27
A Mother's Journey After Her Son's Spinal Cord Injury