A Cornelia, Ricardo, Max, Bia, Helena & Victoria Xavier Campaign, in support of Walkabout
Description
Xavier Family trek: Caminho da Fe, Brazil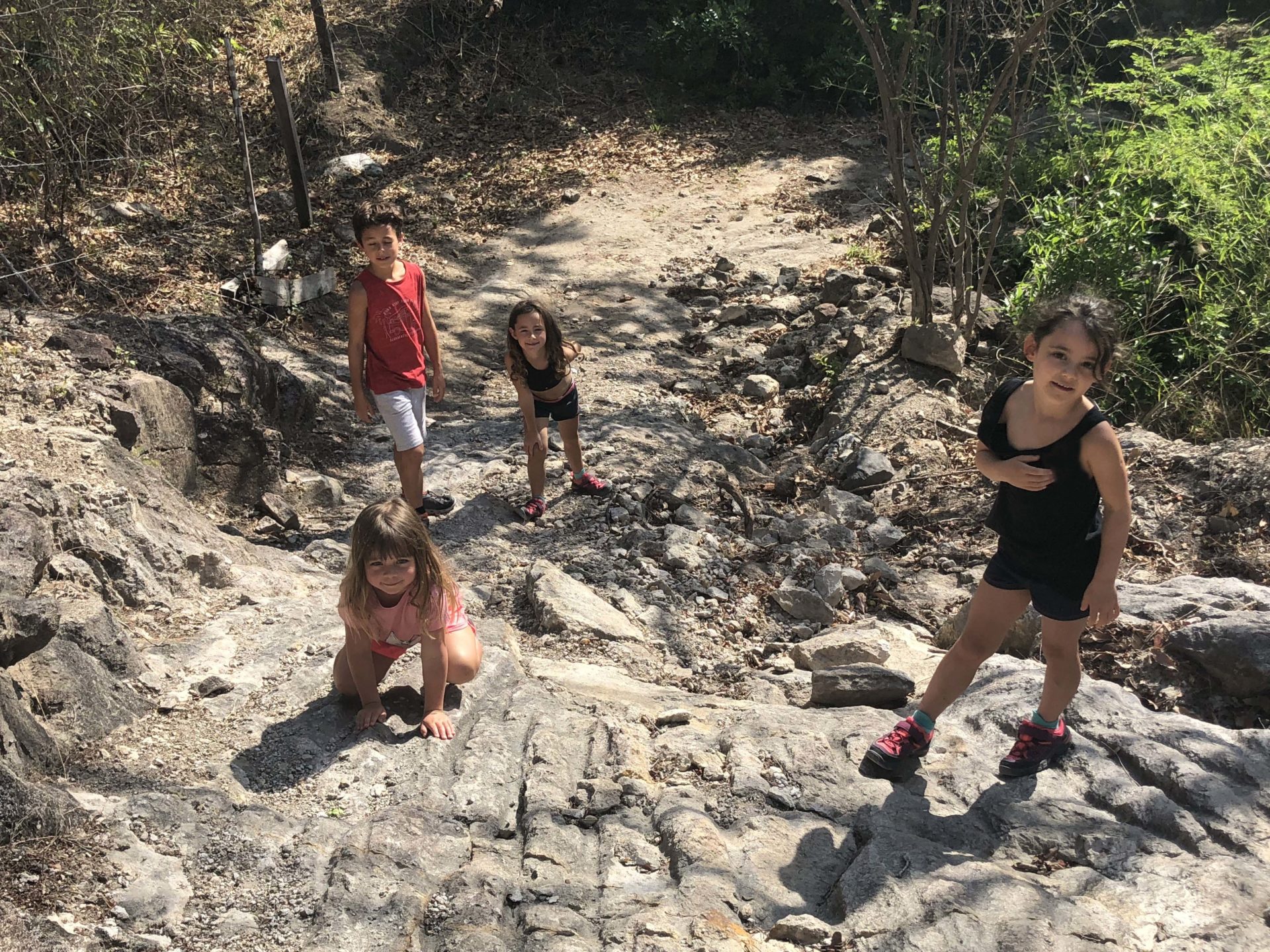 "You are totally crazy!" was the common responses we received when we announced to our friends and family that we are intending to complete The Caminho da Fe, a 317km mountain trek in Brazil by foot and mountain bike … including the ENTIRE Xavier family. Well, we like "crazy", so we went ahead and started planning, taking into account realistic goals for Victoria (4), Helena (6), Bia (7) and Max (9).
Why are we doing this?
Our kids have been keen supporters of this year's school charity Walkabout Foundation and they wanted to come up with ways to help them. Being active kids themselves, they love the idea of bringing mobility to those in need and thus giving them freedom to explore the surrounding without having to depend on others. As a family, we have always encouraged them to get outdoors, explore forest, build dens, dig for worms, play in the mud, you name it. We dragged them along surfing, rock climbing, abseiling, cycling tours (and para-gliding is also in the pipeline). In a nutshell, we love nature, outdoor adventures and we want to expose the kids as much as we can, especially as we are living in an urban city.
So, we put the two together and we decided to follow Walkabout's motto and "Walk for those who can't walk".
Trek background
O Caminho da Fé, or The Walk of Faith, is a 317 km and over 8000m of climbing pilgrimage trail to the Cathedral Basilica of the National Shrine of Our Lady Aparecida, the world's second largest church after the Vatican. O Caminho da Fé was inspired by the famous Camino de Santiago in Spain and although its distance is shorter, its mountains are much steeper and harder to trek. Caminho da Fe passes through the states of Minas Gerais and São Paulo along back roads, trails, asphalt and forest.
 Why did we choose this trek?
The official start of the trek is in a rural village called Aguas da Prata, a small town on the border of Sao Paulo and Minas Gerais which has been holiday home to Ricardo's family for 3 generations. Ricardo, his brother, cousins and I have been obsessively mountain biking a variety of trails and know the area very well. It has some tough climbs and terrain, but you are rewarded by breath-taking views across the Mantiqueira Mountains.
 What are our goals?
We have planned to complete the 317km in 10 days. 
| | | | |
| --- | --- | --- | --- |
| DISTANCES | TOTAL 317km | BIKE | WALK |
| Ricardo | 317 km | 200 km | 117 km |
| Cornelia | 317 km | 200 km | 117 km |
| Max | 100 km | 17 km | 83 km |
| Bia | 70 km | 10 km | 60 km |
| Helena | 60 km | 10 km | 50 km |
| Victoria | 40 km | n/a | 40 km |
 This means, we are aiming to complete a minimum total of 894km as a family!
Please join us on this challenge by helping us raising funds for Walkabout Foundation. It would mean a lot to us, if you would support the charity with £ and we would also welcome psychological support for us (the parents!) with encouraging words as we are not only training hard physically to complete the trek, but also mentally preparing ourselves for MANY tantrums lying ahead of us.
You can follow our journey on our blog, and IG (onceuponaphoto.london)
Latest Donations
Mirabelle le Hodey
£50.00
We are so so so impressed with your amazing achievement! Well done!
Maya Abu-Deeb
£50.00
An incredible challenge, and an amazing (and everything that can mean!) experience for you all. What memories you will have! With admiration, from the Souri family 🙂
Wild Child Shop
£6.66
Bia's second hand street shop raised some money
Kate Brewster
£100.00
Amazing achievement! Well done to you all. Go Max! William and all the Brewsters!
Emanuela Sciubba
£50.00
Go, go, go!
Alison Pagel
£100.00
Phenomenal! We are so proud of you all:-) Love from the Pagels
Sophie Salles
£100.00
You guys are rockstars !! xx Leonie and family
Igor Yamamoto
£150.00
Good luck too all Xavier trackers.
Marielouise Flood
£100.00
Good luck Max! Best wishes Robbie
Erico Lima
£30.00
Mandou bem!
Domenico Ferrini
£100.00
Good luck Xavier family! All the best from the Ferrini's
Max Bia Helena and Victoria xavier
£400.00
cash the kids received from Herbie and Ozgur (yet again!) in an unforgettable gesture of generosity, trust and support to us. it came along with nice cards, water bottles, backpacks and of course, candies to keep the children motivated during the trek. many thanks indeed.
Sarah Kleinwort
£100.00
Go guys!!! So impressed you are doing this. We are rooting for you!!! Louis & Tilly xxx
fernanda marinoni
£20.00
Força, foco e fé nessa aventura 🏃🏃🚴🚴👏💋
Herbie & Ozgur Saller
£500.00
Your trek is a motivation to think of other people not capable of doing all the things we take for granted.
Nigel Whittaker
£200.00
Get training Ricky - no letting the side down!
Eva Diederich
£50.00
Liebe Helena, was für ein Abenteuer in Deinen nächsten Ferien! 60 km sind ganz schön viel, aber Du schaffst das. Du tust viel für andere. Das finde ich großartig.
Adrian Costello
£10.00
Well done, Maxi and all of the family! Incredible effort!
Maximilian and Bia Xavier
£134.71
Max and Bia fundraised Today selling their goodie bags at Thomas's Prep school. 80 bags were handed out!
Helena Xavier
£120.74
Today Helena fundraised at Thomas's Ken Lower School selling sweetie bags outside the school at pick up. Think the whole school was excited to find out what surprises were inside their bags. Thank you all for your generosity. Only 19 days to go.
Annabel Fitzwilliams
£20.00
Emma Jackson
£50.00
For Maxi, from Leo Jackson. Good luck on your amazing adventure!
Rebecca Farsi
£100.00
your family is an inspiration!! with so much love and admiration, the farsi family xxx
Kerry Fuller
£50.00
WOW!! Super impressed - what a great idea and fantastic way to get all of the kids to be involved. Woop Woop!!! xxFULLERS
Tina Mavraki
£10.00
Go Victoria! I will be cheering for you and wish I could walk with you. Your Iverna Gardens friends Katarina
Danielle Marks
£20.00
Wow Cornelia - this sounds fantastic. Good luck x
joao xavier
£125.00
show! bela iniciativa. estou feliz por andar alguns km com voces. beijos Great! Super initiative. I am very happy to be able to walk some kms with you guys.
Fernanda Camargo
$100.00
Desejo a essa família linda mais uma aventura inesquecível!
Richard Pavry
£150.00
From the Pavry family - what an amazing project and wonderful charity. Bravo!
Milo, Nilaya, Saskia, Luca Max, Bia, Helena, Victoria
£54.74
The kids and their close friends (Saskia, Milo, Nilaya and Luca) (organised on a spontaneous fundraising event today. Selling second hand toys and books and talked to random strangers about Walkabout Foundation and the trek in Brazil. So proud of them for their initiative and courage. And then had lots of fun too.
Caroline Alexander
£100.00
You are an amazing family, this challenge is going to be awesome! So proud of all of you and I can't wait to hear all the stories! Caroline xxx
Matthieu Boulanger
£200.00
Good luck Team Xavier!
Philippe Pennewaert
$88.00
Boa turma! Bom passeio!
Aga McDaniel
£50.00
Good luck Xavier Family! What an incredible and memorable adventure.
Barbara Diederich
$10.00
support for a good idea
Demian Brasil
£100.00
What a journey, enjoy every minute of it
Daniel Gargiulo
£50.00
Rockstars
Ana Luiza Scomparin
£75.00
Força família! Vocês são demais. Beijos
Rodrigo Storti
£150.00
That's a fantastic trip guys. Love the walk and the good intentions!. Wish you all the best for the walk, the kids are great!
ludger diederich
£10.00
sempre para mais ...
Victoria Xavier
£112.00
Money from Victoria's fundraising day at Iverna Gardens Montessori. She gave a small talk to her class and then set up a table outside giving out Walkabout medals, bracelets, flyers and packages of raisins. Kids gave generously putting coins and notes into her bucket.
Bia Xavier
£5.00
Bia asked random person on our street for donation and explained about Walkbout. She gave £5.
Nadia Almeida
£10.00
Estou muito orgulhoso! Boa sorte para toda familia. Beijos
Nana Xavier
£5.00
Estamos treinando aqui no Brasil. Beijos e até Julho.
Duda Xavier
£10.00
Vamos primooooos!
Anonymous
£10.00
Wish I could come along with you!
Catherine Heitmeyer
£170.00
On behalf of Thomas's Kensington 3KE Parents, we wish the Xavier Family the best of luck on their inspiring and epic adventure!
Adele Diederich-Colonius
£150.00
Olaf Brueckner
£100.00
Great idea! Good luck!
Hans Colonius
£100.00
Keep up the spirit, GOOD LUCK !
Cynthia Nadal
£200.00
You guys rock! good luck!
Maria Felicitas Arranz
£100.00
Peter Timpson
£200.00
Good luck guys
Robert Noordhoek Hegt
£100.00
Good luck Xaviers!
Stewart McAndie
£100.00
great idea team Xavier and fantastic cause !!
Paul Measday
£150.00
What a pilgrimage! The Xavier clan is going to have some outstanding lifelong memories. Avante e (principalmente) para cima!
Christian Schniewind
£100.00
Go on Xaviers! Good luck!
Alexis de Mones
£100.00
Xavier family showing us how it's done! Congrats
Gideon Frank
£250.00
What an amazing thing to do for a great cause!
Barbara Xavier
£25.00
This family inspires me so much! So happy to be part of this 💪🏼💪🏼💪🏼!! Love you guys with all my heart ♥️♥️♥️
Gustavo Medeiros
£150.00
The dragon ride will look more like a lizard after this amazing family trekking! Love the enthusiasm/determination of the kids! Be strong!
Alex Autrey
£250.00
I know you will do this, especially the little ones with grit, determination, and some sort of Murmli equivalent incentive at the end of each day! Good luck keeping them all going at the same time 🙂 My girls will be cheering for them!
Chris Mader
£50.00
Go Team Xavier!!
Fernando Assad
£300.00
Boa! Forca a todos! I think Cornelia warrior queen will end up carrying 5 Xaviers through to the finish line!
Cemil Urganci
£200.00
Sooo brave, amazing! Good luck! 🙂
maria xavier
£250.00
que bela iniciativa. parabens e muita coragem!
Rachael Johnson
£100.00
Boa sorte!!!!❤️❤️❤️
Philippa Parisi
£50.00
We used to THINK you were crazy... now we KNOW you are! Very admirable and courageous! LOVE what you are doing. Milo & Nilaya
Raised
£

8,250.00
$

10,807.49
That's
33
life-changing wheelchair(s)!
https://www.walkaboutfoundation.org/wp-content/uploads/2019/05/Kids-hiking-Costa-Rica.jpg
1440
1920
Cornelia, Ricardo, Max, Bia, Helena & Victoria Xavier
https://www.walkaboutfoundation.org/wp-content/uploads/2018/05/walkabout-foundation-logo-black.png
Cornelia, Ricardo, Max, Bia, Helena & Victoria Xavier
2019-06-07 12:45:17
2019-07-08 14:01:44
Xavier Family trek: Caminho da Fe, Brazil