Haiti has the lowest Human Development Index in the Americas, and the richest 1% of the population own the same wealth as 45% of the poorest Haitians. It has suffered from decades of political instability, and is frequently affected by devestating natural disasters.
The situation is even more drastic for people with disabilities, who often lack access to basic commodities such as food, water, shelter and care.
Walkabout started working in Haiti just 6 days after the catastrophic 2010 earthquake, which killed 230,000 people and injured an estimated 300,000, many of whom were left with long-term disabilities. Since then, we have conducted 11 distributions and made a pledge to distribute 10,000 chairs in the country.
About Haiti

| | |
| --- | --- |
| Population | 10,646,714 |
| % living below poverty line | 58.5 |
Our work
Year started working
2010
Number of distributions
13
Lives impacted

This number is based on UCP Wheels for Humanity's multiplier, which takes the birth rate in each country and estimates that one wheelchair impacts the beneficiaries life in full, 0.75% of his or her primary caregiver's life and 0.25% of the surrounding family members' (siblings) lives.

8,170
Number of chairs distributed
3,893
Partners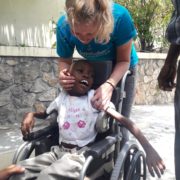 In June 2018, we headed to Haiti to distribute 163 paediatric wheelchairs. Haiti is one of the poorest countries in the Western Hemisphere, and has recently experienced massive political and social upheaval, with riots and violence leaving the country in distress. It is home to some of the world's most underprivileged children. We visited the […]
https://www.walkaboutfoundation.org/wp-content/uploads/2018/11/CYAW3270.jpg
1600
1200
Yana Rydnik
https://www.walkaboutfoundation.org/wp-content/uploads/2018/05/walkabout-foundation-logo-black.png
Yana Rydnik
2018-11-15 19:15:17
2018-12-18 10:14:44
Haiti 2018
Tel: +44(0)207 581 3680
UK Registered Charity 1140850
US Registered 501(c) (3): 37-1582823
Scroll to top